New World Records For Larry "Spiderman" McBride, 5.60, 263 MPH!
October 28, 2019 by
L.A.SLEEVE
Updated: February 12, 2020
Top Fuel Motorcycle legend and 40-plus year veteran Larry "Spiderman" McBride of Team Trim-Tex has once again entered uncharted territory.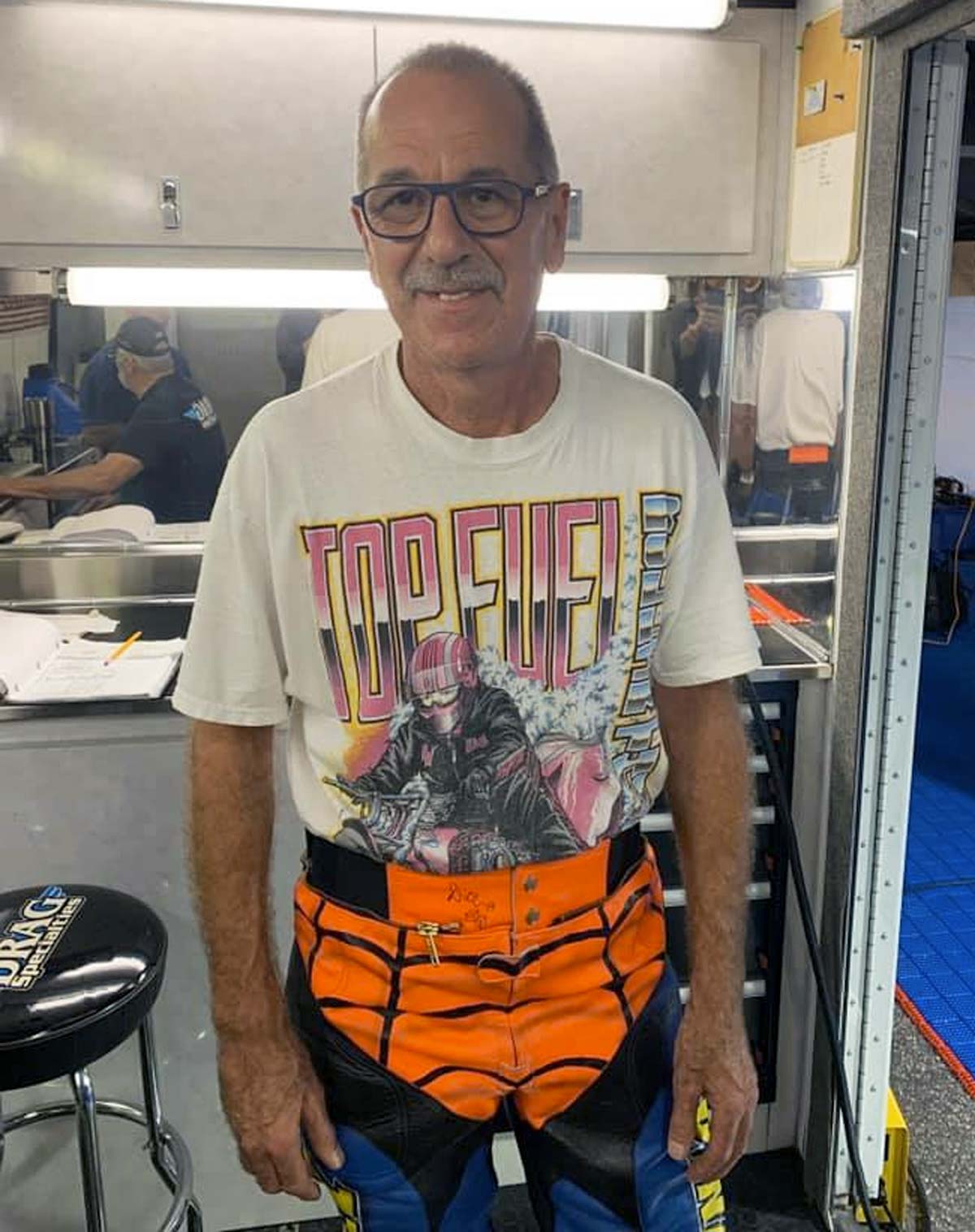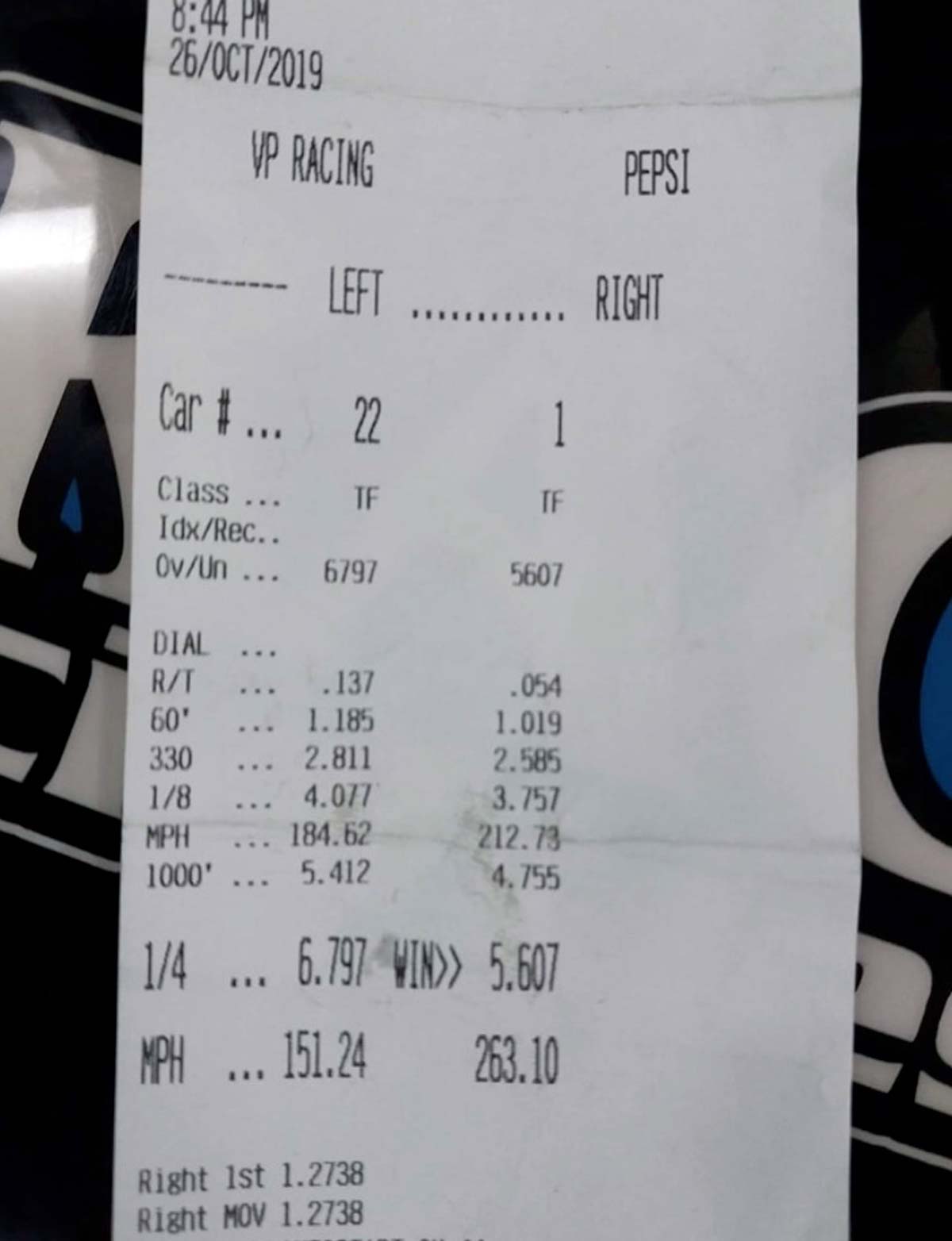 Larry McBride
On Saturday Oct. 26 McBride recorded the quickest and fastest drag bike pass of all-time with a 5.607, 263 mph final round victory over Dave Vantine in the Man Cup MTC Nationals from Rockingham Dragway.
"It's hard to put into words how much this means to my team and I," McBride said. "It's unbelievable. We didn't think we were going to Rockingham to set a new world record. We were just trying to win the race. The guys at the Rock did an amazing job with the track."
The new records surpass McBride's previous bests of 5.61 at 258 mph, set at South Georgia Motorsports Park in November 2017.
"We have been after this for a long time," McBride said.
McBride's weekend got off to an auspicious start when he went 5.65 at 248 mph on a shut off pass in Friday testing.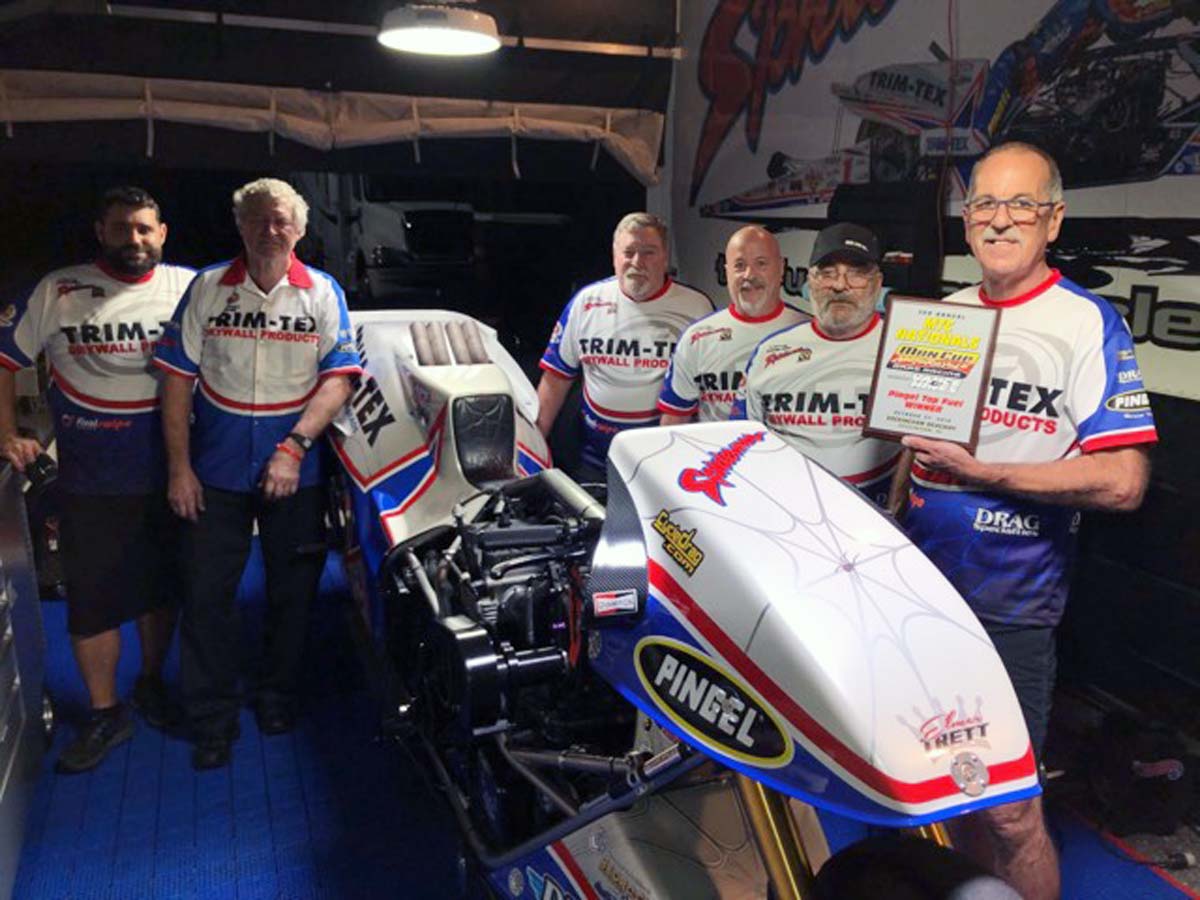 Larry McBride and Team, photo by JT NORTON.com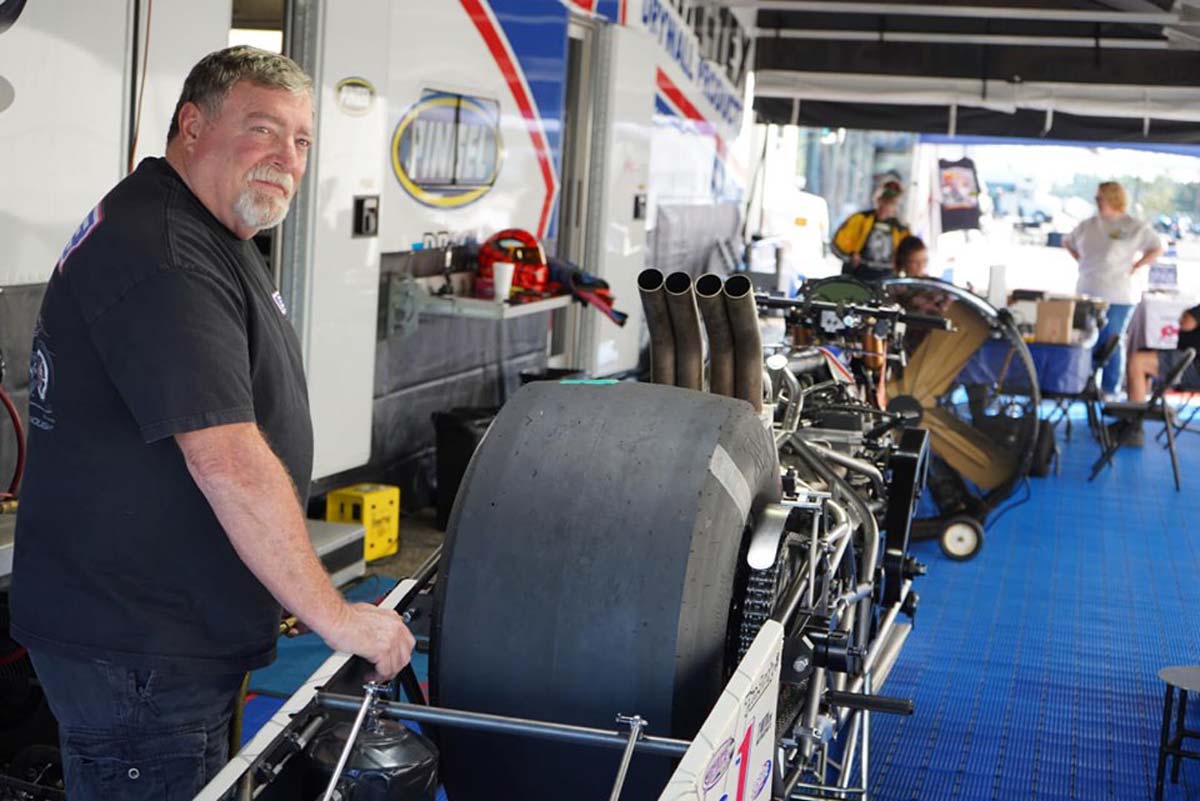 Charles Lynch
"We have been working hard on new developments. That run gave us a lot of confidence that we are on to something," said McBride, who has suffered bouts of smoking the tire over the past couple years. "All the hard work back at the shop and all the incredibly smart people who help us are to thank."
In less than favorable conditions, 2,700 feet of corrected altitude, 90 grains of water in the air, McBride further improved in final qualifying with a 5.62 at 263 mph. The man with thousands of passes under his belt knew this was the fastest he had ever been when he crossed the finish line.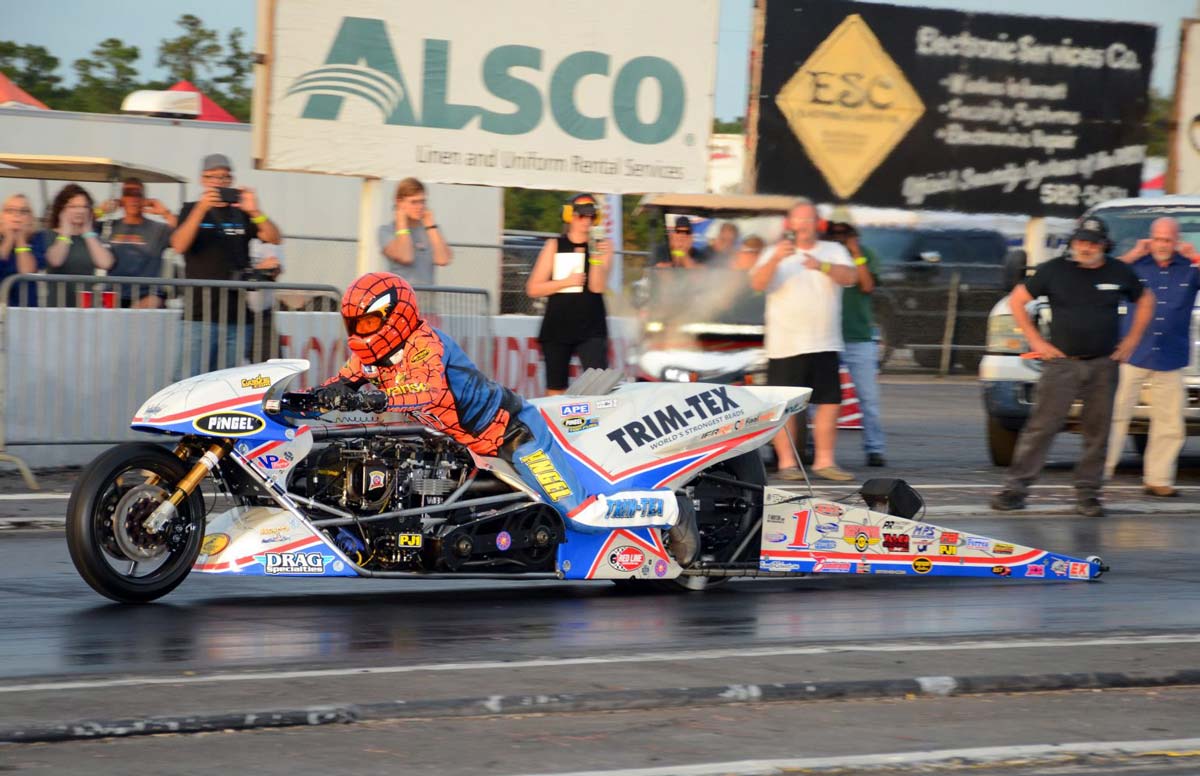 Larry Spiderman McBride, photo by Gary Rowe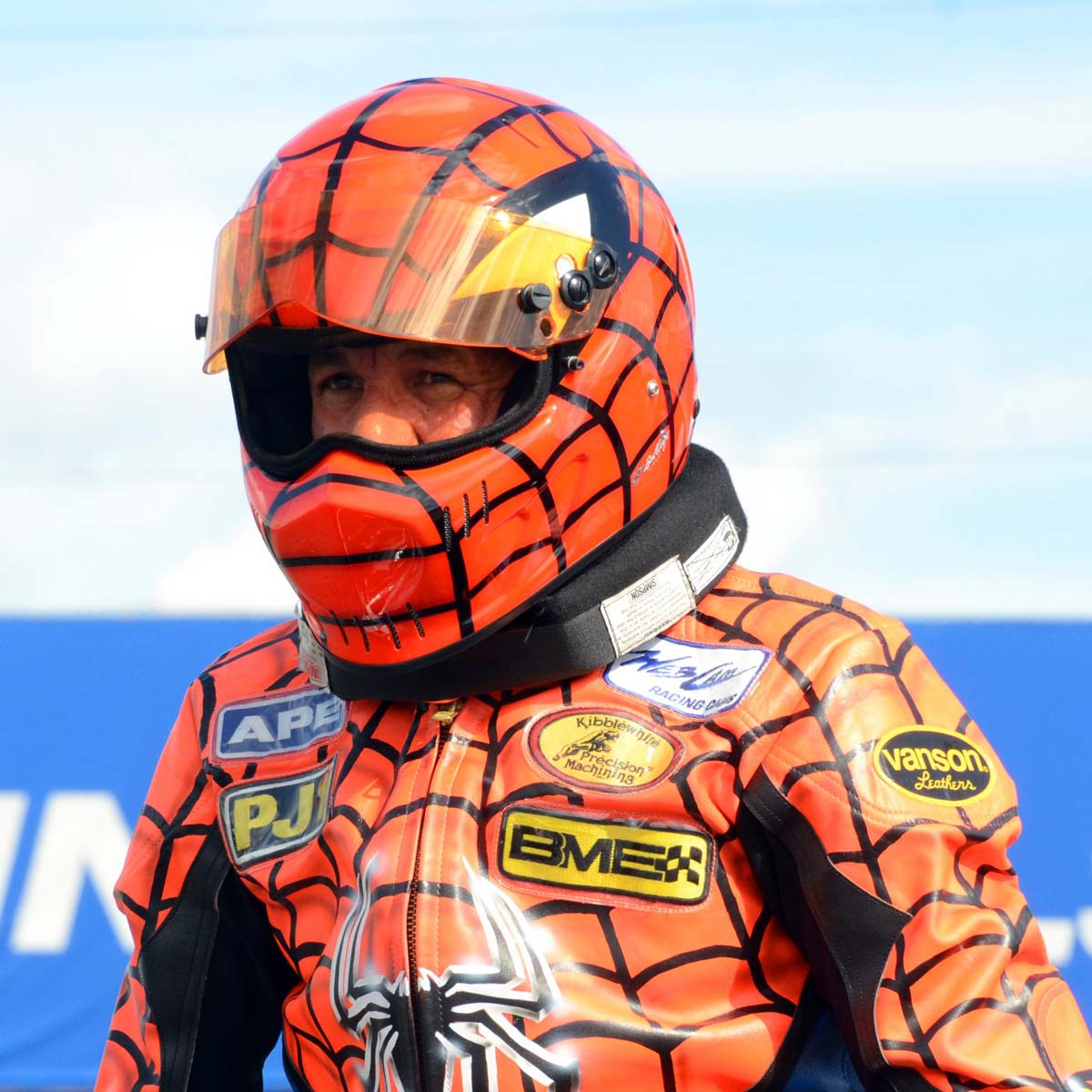 "On the shutoff is when you know you are going really fast. When I activated the parachute I noticed how hard it hit," McBride said. "I never felt it hit that hard. We are treading in waters where people have never been."
McBride had some luck on his side as well. In the opening round of eliminations the Spiderman broke a transmission but was far enough out in front of the Harley of Larry Stanley to turn on the win light.
"Once the transmission broke it took off again and went to about 12,000 rpms and hurt the motor," McBride said. "It also damaged our drive chain and axle adjusters."
McBride's experienced and skilled crew had the motor changed in 70 minutes and corrected the rear end in another 20, giving them about 15 minutes to prepare for the final round showdown with point leader Vantine.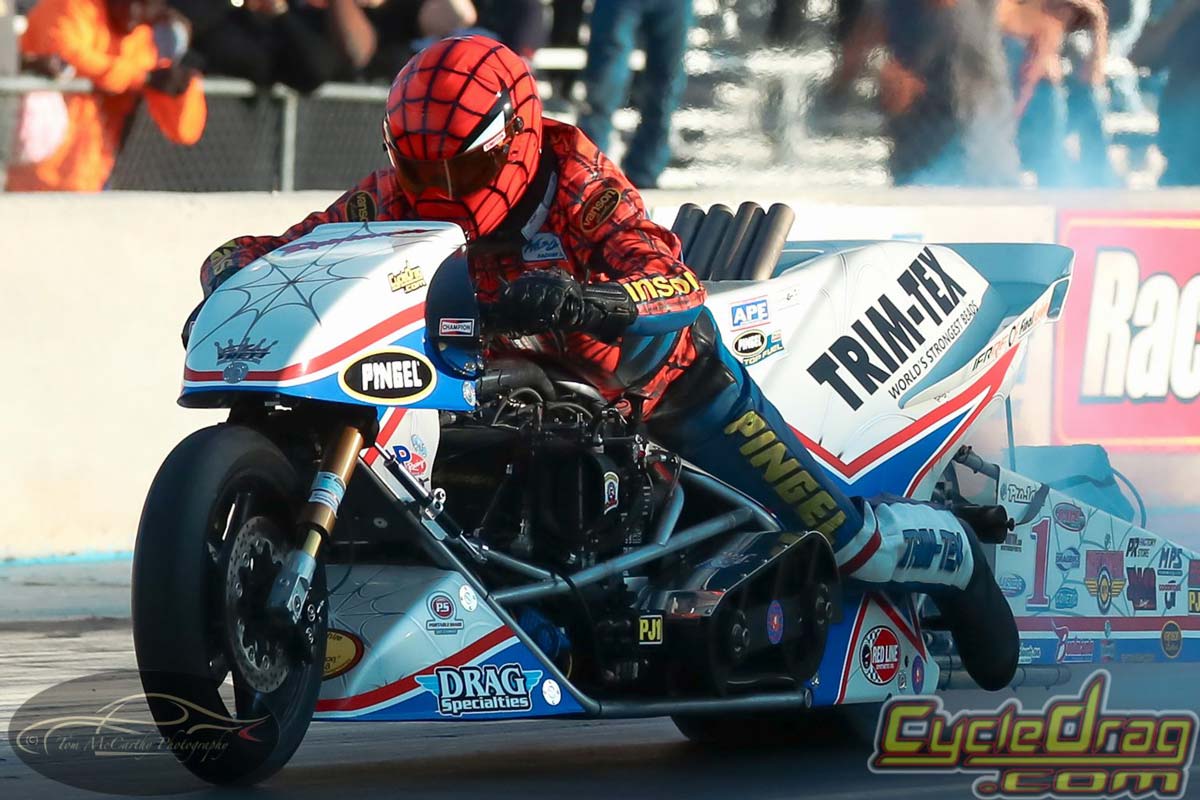 Larry "Spiderman" McBride
McBride had no idea he was about to run the world's quickest motorcycle pass.
"We were just trying to repeat the 5.62," McBride. "It took off so hard and just kept pulling."
After suffering his worst start to a race season in more than 20 years, McBride now heads to the biggest race of the year, The Man Cup Finals from Valdosta, Ga. Nov. 21-24 with the world records and the points lead.
"The Nitro gods smiled on us this weekend," McBride said. "We have a powerful motorcycle. I think we can go even quicker."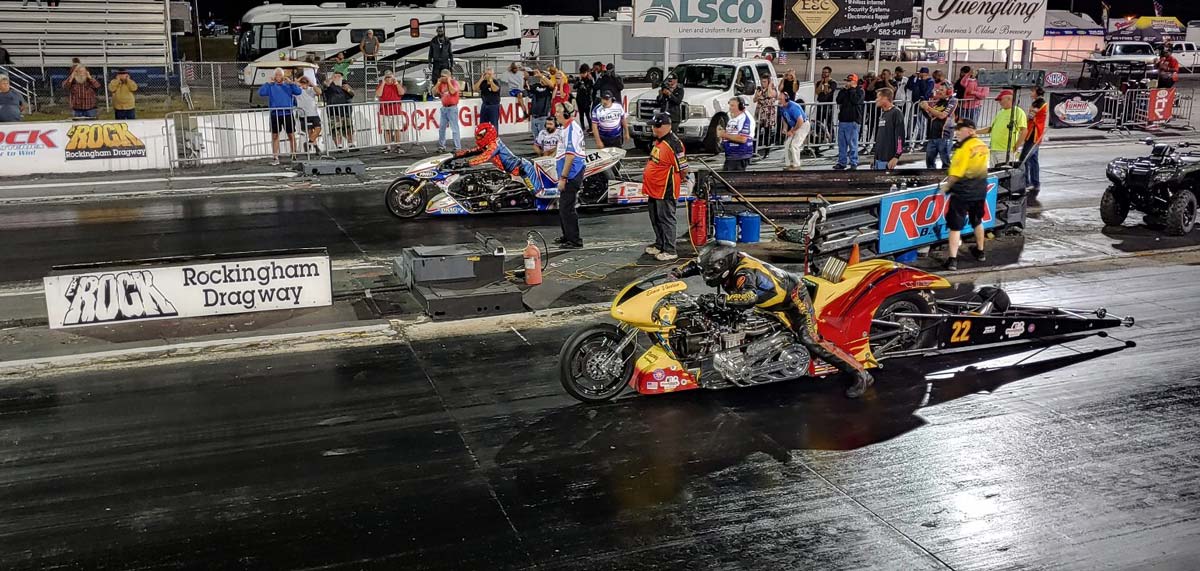 Larry McBride vs. Dave Vanitne
For all the continued support McBride thanked his sponsors, including L.A.SLEEVE.