AP ORR Brake Pads Review
by
L.A.SLEEVE
Updated: April 19, 2019
Written by Jimmy Lewis—Photographs by Jimmy Lewis. Courtesy of DirtBikeTest.com .
Roost
Improved feel and control at the brake pedal or lever.
Excellent brake strength with consistency when they become hot. Minimal (if any) fading.
Fit exactly as stock.
Endo
Do not warn with poor performance before boiling brake fluid.
WHAT IT IS
Replacement performance brake pads.
AP's Off-Road Racing (ORR) Pads are engineered to be a high performance pad option for your bike's stock brake system. The company has a vast knowledge of brake systems reaching all the way into Formula One as a supplier for many of the teams. For the ORR pads a sintered metallic compound is claimed to offer consistent performance regardless of temperature and are suitable for OE cast iron and stainless steel discs. They are available for most current dirt bikes as a direct replacement and durability and pad life is said to be equivalent to stock.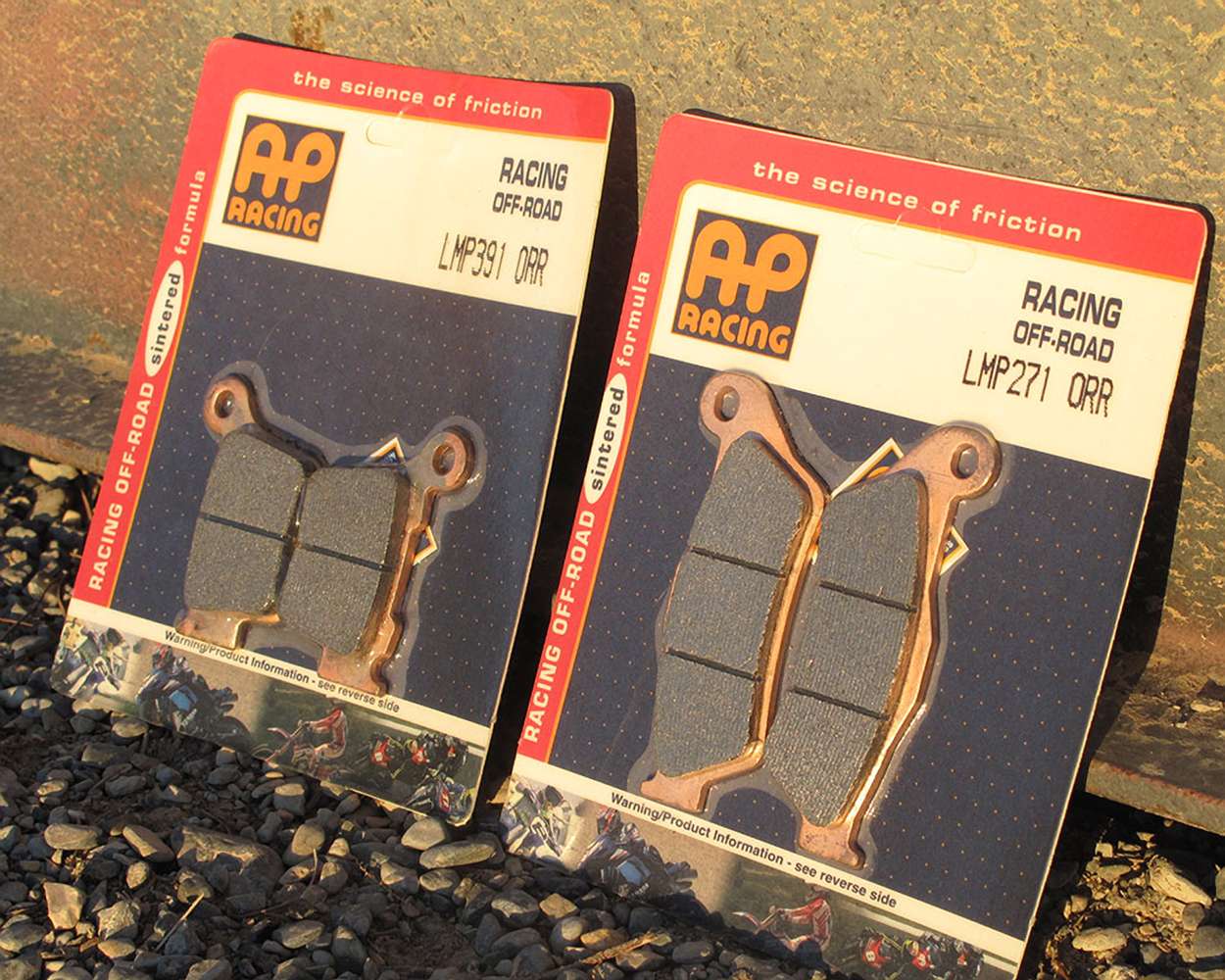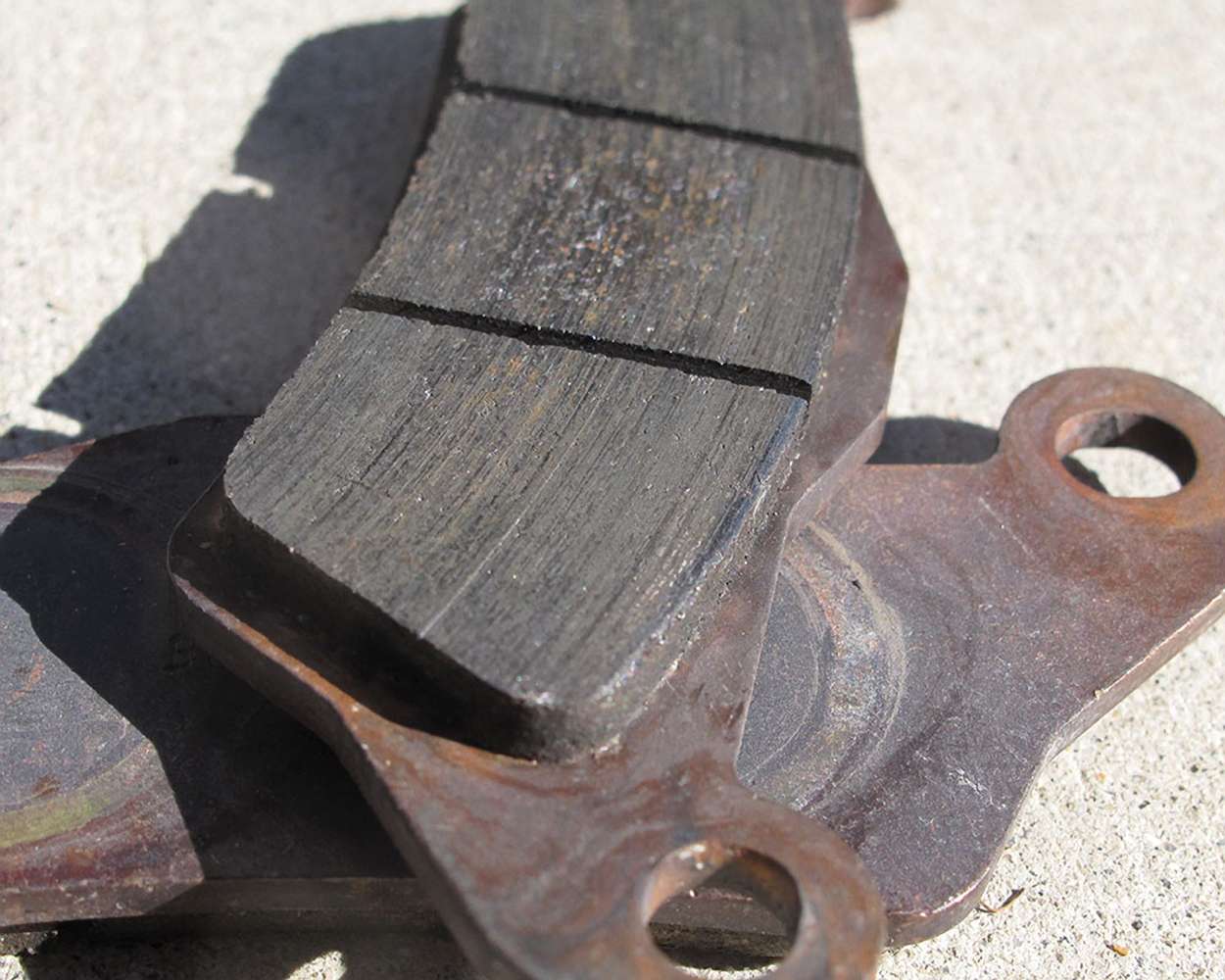 HOW IT WORKS
Better control of braking without losing any stopping power.
Very constant performance regardless of heat.
Stock-like durability and wear.
We tested the AP ORR pads on a number of different late model KTMs and on a couple new Yamaha YZs. The pads install exactly as the stock pads and have the same amount of pad material when they are new compared to standard pads. You can back the pads with the stock brake pads insulators if you wish but we did not during our testing. The newer the brake rotor the quicker the pads bedded in, and like all pads they need to seat in and mate to the surface of the rotor for best performance. We would get the pads nice and hot with some progressively more and more aggressive stops on a surface with good traction every time we swapped them out.
After bedding most riders instantly felt some improvements over stock and on every occasion when being tested blindly the AP pads were preferred over stock without explanation. Riders typically said the AP pads had better feel and improved power, in that order. It was the control of the brakes that was noticeably better.
With high level test riders the feel was explained in more detail. Especially on KTM brakes the very initial bite (which is grabby to some) was lessened but then there wasn't any fall-off as the pad and rotor contact and associated feel stayed very consistent while the braking force was increased. The longer the brakes were applied and the harder the force, then the AP pad will begin to give more brake bite with less lever force in long, hard stops. The standard KTM pads have more initial bite then they fall off before coming back stronger. The AP's were more consistent and progressive in feel overall. On the Yamaha's the initial bite and feel was nearly identical to stock but on longer and harder braking the AP pads have better power with less lever effort on longer braking usage. Most noticed slightly less lever effort for the same brake power when compared to stock.
In heavy use, especially long extended downhills for the front or racing and maneuvering around tight trees and rocks for the rear, the consistency of performance with the AP pads exceeded the stock pads every time. We tested both front and rear brakes till the fluid boiled, (sparks were even visible in evening runs with the AP pads) which occurred after the same amount of time or runs no matter the pad. In doing this the strength and consistency of the AP pad was superior and less affected by the rising temperature and they did not get grabby like the stock KTM pads did. The only downside to this, specifically to the rear, is that a rider will not get a warning that the heat generated by the brake pads is boiling the brake fluid. Using fresh brake fluid is always advisable and AP also makes some of the best (AP PRF 602 Brake Fluid $32.00) we have used. It is expensive but so is losing your brakes.
Durability is hard to test on something that will likely last a long time for a normal rider. Under regular use there is no worry, they will last as long as standard pads. In abusive or racing conditions we saw a slightly increased wear rate but it was not enough to cause concern. Riders who drag the brakes will likely go through the rear pads a little quicker but they will have less of a grabby feel from our simulated testing. We did not notice any additional rotor wear or excessive wear in abrasive mud when compared to stock.
In a time when bikes are getting faster and faster and riders want them to go faster yet, often the brakes are overlooked. And even as good as stock brakes have become (and there is even attention to this with some of the manufacturer's going to larger front brake rotors in the past years) sometimes something as simple as different brake pad can make a difference. Going with the stock pads is always a safe bet but we put the AP pads up against the best and they exceeded on all accounts. At roughly $40 per set they are priced close to what most stock sets sell for and in some cases (KTM rears) a lot less. Once you get use to the feel and control the AP pads provide, then lesser brakes will bother you. If you are looking for increased performance from your bike there is a lot riding on the way your brakes work.
30% Discount on AP Racing Brake Pads with code DBT2019
Offroad / MX and ATV
(Valid through our online store only)
---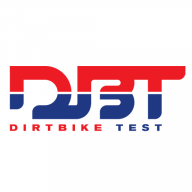 ​Courtesy of DirtBikeTest.com