MTA 2-Stroke MX Championship 2013 Three Round Series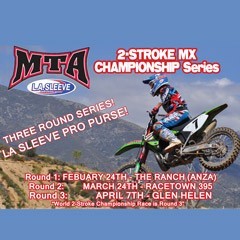 MTA 2-Stroke MX Championship Series
Three Round Series!
L.A.SLEEVE Pro Purse!
Round 1: February 24th - The Ranch (ANZA)
Round 2: March 24th - Racetown 395
Round 3: April 7th - Glen Helen
"World 2-Stroke Championship Race is Round 3"
Bring Back the 2-Strokes!
Grass roots racing for any year, make or model as long as it goes BRRAAAP! All younger riders get a prize and trophy each round! Practice at 8AM; Racing at 9:30; Long motos, but efficient program for a short day!
Pro payout all three rounds - amounts will be announced - plus 100% payout!
Entry Fees:
All amateur classes: $30
Pro class: $70
Every amateur entry receives a prize! No membership required!
Two Championships: Overall Series Championship and World 2-Stroke Championship! (not determined by series points)
Classes
Pro Class: Open
Amateur Classes:
125cc: Beginner (first timer), Novice, Intermediate
250cc: Beginner (first timer), Novice, Intermediate
Open: Beginner (first timer), Novice, Intermediate
+30 years: Novice, Intermediate, Expert
+40 years: Novice, Intermediate, Expert
+50 years: Novice, Intermediate, Expert
Mini Classes:
50cc: Beginner (first timers), 4-8 years, 6-8 years
65cc: Beginner (first timers), 4-8 years, 9-11 years
85cc: Beginner (first timers), 4-11 years, 12 and up
Plus: 4-stroke support classes
For more info, contact ; Download pdf flyer